Selfridges' New Six-Seater London Speakeasy Is Available To Buy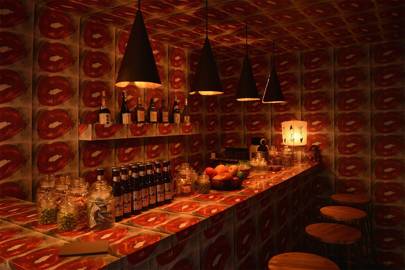 Getting up close and personal is the theme of Selfridges' latest art installation and bar experience. Aptly named The Lip Bar, the new venue takes inspiration from the small, intimate bars dotted around Golden Gai, an area of Shinjuku, Tokyo.
Launching on Valentine's Day, the micro establishment has been created by Japanese artist and photographer Daido Moriyama. The red and black decor, which features pictures of lips plastered all over the walls, pays homage to both Moriyama's favourite haunt, Bar Kuro in Golden Gai, and his vast portfolio of photographs of lips. The six seats within the 6.6ft by 11ft space can be booked for an hourly price of £10, and includes two Asahi beers or a cup of sake. The bar can also be bought outright for £80,000.
Inside The New Brasserie Of Light At Selfridges
The drinking hole is a part of Selfridges' latest initiative, State of the Arts, which will showcase installations, limited-edition pieces and in-store displays in its UK stores. The three-month initiative – which launched last month – aims to promote the work of nine different artists.
Gucci's Selfridges Pop-Up Shop Is A Millennial-Pink Paradise
The Lip Bar is set to open in Selfridges, Oxford Street, on February 14 and will run until March 3.
AF Vandevorst Look Back As Selfridges Celebrates Their 20th Anniversary